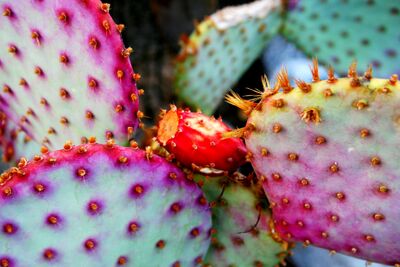 If you manage to get past the (sometimes poisonous) spines of this bit of flora, there are enough sugars to make a meal and keep you going. The prickle pear is a staple of the sphere for easy nutrients found in any hot climate that is safe to eat, as the plant's own filtration system removes most of the toxins from the soil. The color is assumed to be a lefover as a result of the purification process, possibly as a result of sucking up rainbow water to fuel its biocycle. The deeper the color tones, the more mature and riper the plant must be.
Ad blocker interference detected!
Wikia is a free-to-use site that makes money from advertising. We have a modified experience for viewers using ad blockers

Wikia is not accessible if you've made further modifications. Remove the custom ad blocker rule(s) and the page will load as expected.